MIRROR MIRROR ON THE WALL
Upgrade or enhance your bathroom by choosing from our wide range of illuminated mirrors. A bathroom mirror can transform the way a room looks, feels, and functions.
It also offers character by properly reflecting both natural and artificial light and can also give your bathroom a feeling of spaciousness.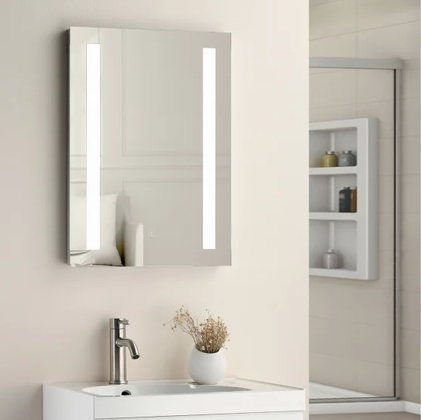 LED MIRRORS
LED mirrors are an efficient, stylish, and environmentally friendly way of illuminating your space.
HEATED MIRRORS
There is nothing more frustrating than getting out of a shower to be faced with a fogged-up mirror and that is why many of our mirrors are fitted with demister pads to overcome this problem.
AMBIENT LIGHTING
Set the mood of your bathroom by choosing a colour-changing or backlit mirror.
BLUETOOTH MIRRORS
These mirrors with speakers add a new dimension to your bathroom experience, allowing you to stream your favourite music, radio, or podcast while you shower or bathe.
ADDITIONAL FEATURES
Some of our mirrors also come with additional features such as USB charging, infrared on/off sensors, and electric toothbrush/shaver sockets.
Please note that this is just a small selection out of an extensive range of products. We have a newly renovated bathroom showroom in our store, and our sales team will be able to take you through the catalogue and highlight other items that are available to order with a short lead time. We are very happy to offer free consultations and quotations, to help you design your perfect bathroom.